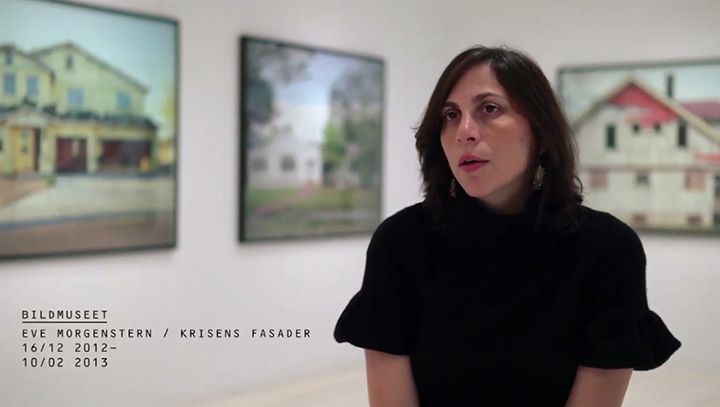 About
Eve Morgenstern was born on Long Island and raised in Brooklyn, NY. She received an MFA in Photography from the San Francisco Art Institute and a BA in Art History from Vassar College. She is an arts professional, photographer, documentary film director and producer based in Beacon, NY. Eve has been awarded artist residencies at MacDowell, Lower Manhattan Cultural Council Workspace and grants from Chicken and Egg Pictures, New York State Council on the Arts, Anthony Radziwill Documentary Fund, the George Gund Foundation, the Park Foundation, nextPix/firstPix and the Playboy Foundation.
Eve is founder and producer of an annual climate theater, art and activist event Soon Is Now at Scenic Hudson's Long Dock Park on the Hudson River in NY, fiscally sponsored by New York Foundation for the Arts.
Her photographic project Facades of Crises produced during years of making commissioned videos for the government on the housing crises, had its solo show Museum premiere at Bildmuseet in Umeå, Sweden. The project was also exhibited at the Midwest Center for Photography and published in a special Le Monde magazine issue on America during the Obama administration.
Her documentary film, Cheshire, Ohio about the buyout of a town by a coal fired polluting power plant has screened in festivals in the US, Canada and Asia and won first place documentary feature at the Knoxville Film Festival, the Free Press Award at The Columbus International Film and Video Festival, and the Special Jury Award at The Frozen River Film Festival. Distribution: Bullfrog Films (link) and ovid.tv (link).
2021- ongoing Soon Is Now: Climate theater, art and activism in Scenic Hudson's Long Dock Park, an annual festival of eco and climate change themed performance art and activism.
2016 - 2019 Cheshire, Ohio, First Place Documentary Feature Film, Knoxville Film Festival; Special Jury Award, Frozen River Film Festival; Free Press Award, Columbus International Film and Video Festival. Screenings at Planet in Focus, Toronto; Green Film Festival, Seoul, South Korea; San Francisco Green Film Festival, Fingerlakes Environmental Film Festival, Cleveland International Film Festival, Sustainability Film Series, Athens Ohio, Green Lens Film Series, DeKalb, Illinois, West Virginia International Film Festival, Movies that Matter.
2014 George Gund Foundation Award for Film/Video.
2013 polis: Abandoned Homes (link)
2013 polis: Scenes from an American Nightmare (link)
2010/11 LMCC WORKSPACE Artist Residency Award (link) Accepted to Marie Walsh Sharpe residency the same season 2010/11
2008 Finalist, Headlands Graduate Award
2008 Finalist, Ella King Torrey Award
2007 Park Foundation Award for documentary video
2007 Paul Sack Building Award, 1st place color photography
2005 New York State Council on the Arts Individual Artist grant
2005 Anthony Radziwill Documentary Fund Award for film/video
2002 New York Council for the Humanities/NEH project award